I went for a run on Antelope Island this morning. It used to be a lot easier to get to the island when I lived in Layton - now it is about a 40 mile drive just to get to the causeway. However, it was a nice sunny day and a beautiful day to be experiencing nature up close and personal.
I am running the Buffalo Run (
http://www.buffalorun.org/
) in March, 2009 for the fourth year in a row and they hold training runs on the island so that we can get some trail running in and get used to the conditions. I took my friend Leslie's dog Odee along for some company and to get him some exercise. I had to have Odee on a leash and that was an experience, because he is not a tiny dog.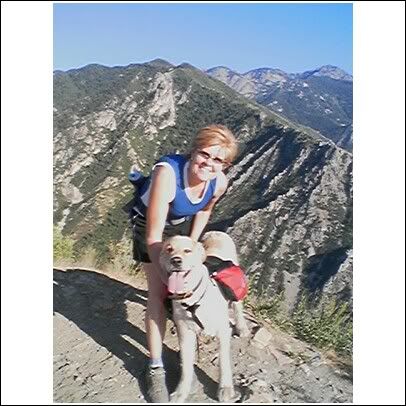 As you can see in this picture of Leslie and Odee - Odee is about the size of a small horse. He is part Great Pyranese and is a sweet dog. He even has his own set of running saddlebags so that he can carry his own water and treats.
Odee and I did 11 miles yesterday. That was my goal to hit 40 miles for the week. Odee decided I wasn't allowed an easy warmup and took off running and I did my best to keep up. Luckily, he is still a dog, so had to stop and christen a lot of bushes the first two miles before he could settle down and be serious.
We first ran the White Rock Bay trail. In my previous years of running on Antelope Island, I always walked the uphills, but thought I would just run slow up them today. We took our first break at the bench at mile 3 on the White Rock trail and Odee downed an entire bottle of water. It has a long, slow uphill that we had steamed up. Some of the runners headed up past Lone Tree to run the Elephant Head trail -but I honestly didn't think Odee would be able to handle the steep uphill and knew he would block my view of that trails rocks, so I went left and continued around White Rock.
A mile or so later we hit the next uphill and it was steeper and Odee just couldn't run it, so I used him as an excuse to walk. About then, Jim Skaggs, the race director of the Buffalo Run caught up to some of us and told us he had just got permission for us to run a new section of trail that would mean we could avoid the next big hill. I love exploring new trail and jumped at the chance. It took us back down the north side of White Rock and was a series of sweet, easy uphills and downhills. There were 6 buffalo grazing in a small area and the trail actually looped around them for about a mile. Odee was tired enough that he didn't bother with them and I think the buffalo thought Odee was big enough that they didn't want to mess with him either.
About mile 8 we could see the jeep and Odee wouldn't even take a break to drink and was pacing me pretty fast. He could smell the barn - as they say. I tried to tell him we weren't done running, but he wouldn't listen. I think he had a sad look on his face as we ran past the car. We headed around the White Rock Bay campgrounds and over to the Lakeside trail and ran it a mile or so before turning around and heading back to the car. Odee was 'dog tired' - so it was time to call it quits.
If my training continues and I can stay healthy - I should be able to take another 30 minutes to an hour off my 50K time come March.