Jennifer was asking for some more Twilight pictures - so here they are. The picture above is Twilight's home. She has her bed, potty pads, toys, etc. Today I added the crate and am feeding her in it to start her on crate training.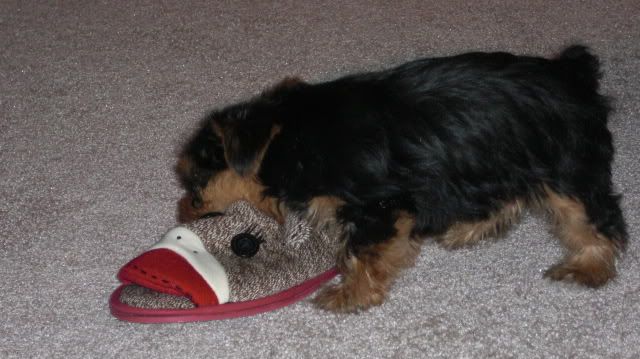 Twilight seems to feel my monkey slippers are ominous and was attacking them and dragging them around the house today.
Here she is asking me to let her go free.
Silly dog - she is laying on her back in her bed and whining at the same time.
We have had some good days and some bad times. Yesterday afternoon and evening were bad. Lots of accidents and poop being left everywhere. Then she peed twice on my bed and kept jumping on my face and trying to bite it and wouldn't settle down. I finally took her downstairs and made her sleep in her cage all night.
We have a lot of fun playing together. Today I have been working on potty training her. Also focusing on not allowing her to bite my hands and feet unless it is just in play. Her favorite place today is my big couch and she loves to run around on it and climb on me and get buried in blankets and wrestle her purple animal. She kept trying to jump up there on her own, so I brought her little set of stairs down and she is learning to go up and down them - although they scare her a little.