Today my goal was to get in the Christmas spirit. I have had a hard time getting used to being alone at the holidays this year - so thought it was time to invite the spirit of the season into my home.
This morning I spent several hours chatting with my daughter in Italy. I miss here even more around the holidays, so enjoyed the chance to talk with her off and on.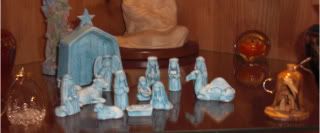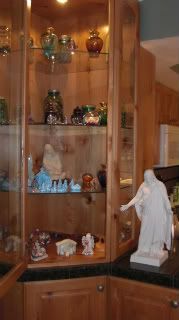 I wrote my family Christmas letter and finished stuffing the envelopes I had already addressed and got the letters in the mail. I then packed a box to ship off to my son-in-law, Jeremy in Afghanistan and another box to ship off to my daughter, Jenn in Italy.
It was also time to dig out the Christmas decorations. I am not purchasing a tree this year for my townhouse, but I put out my Christmas village, several wall decorations and then set up some of my nativity collection.
I love nativities. I think I bought my first nativity about 15 years ago and after that started getting nativities from friends and family as gifts.
Some have come and gone - but most of they have stayed around and I put out different ones each year. This year I put two of the bigger nativities in my Christmas window and several small ones in my curio cabinet. My newest nativity this year is a handblown glass nativity ornament that Jenn bought me in Venice, Italy.
My father passed on a lladro nativity set to my sister and I to share starting last Christmas and as soon as I find it and get it set up I will post pictures of this treasure.