Today was a beautiful day out and perfect running weather for a 20 mile run.
I met Marion McLellan, Luz Lewis and Marion's friend, AnnaLise for Marion's first 20 mile run in anticipation of her first marathon - the Utah Valley Marathon on June 13th.
Luz's husband took us partway up the parkway and we then headed uphill for 7 miles up Provo Canyon. We quickly split into two groups, Luz and AnnaLise up ahead, Marion and I in the rear. It was a bit chilly on the way up, but lots of other runners and bikers on the trail. Marion was playing around with her hydration and gu timing and I was following my usual pattern. I switched over to my marathon timing of run 9 minutes, walk 1 minute.
A little after 7 miles, we turned around just shy of Vivian Park and headed back down the canyon. The downhill definitely seemed a lot easier after the 7 miles of uphill - even though it was gentle uphills.
This picture is of Marion as we were getting near the mouth of the canyon. The quality is not great because I was using my cellphone camera, but has to do.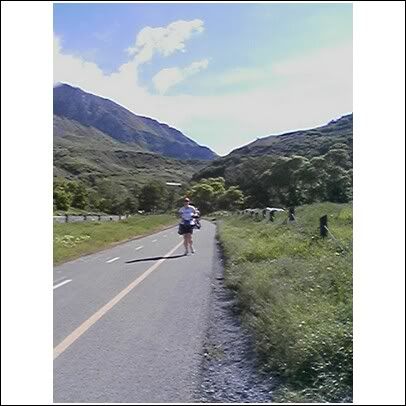 As I was waiting for Marion, I noticed how beautiful the clouds and snow were on Mt. Timpanogos in the background.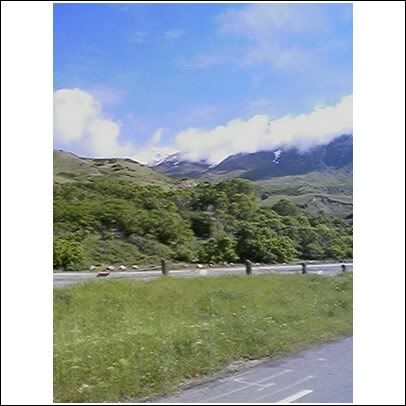 We met up with Luz and AnnaLise again at Will's Pitstop and took a pitstop ourselves. After this, we had to go down the least scenic portion of the trail for a couple of miles and then got back down near the river.
Marion was doing awesome. I know she is nervous about her first marathon, but she has been very careful in her training and is going to do great.
We were both happy to get to the end of the run. After a group picture, Luz took Marion and I down near her house and we sat in the river for a few minutes (my feet couldn't handle the cold, so I sat backwards and kept my feet out). Then we went to Luz's for some fruit and stretching before heading home.