Since I pulled out of the Ogden Marathon with a leg injury, I had the privilege of being able to support my sister, Marcia Nielsen, at her first ever triathlon – the Women of Steel sprint triathlon in American Fork, Utah. My sister has dreamed for years of competing in triathlons and has taken large steps this past year towards getting physically fit and being able to fulfill those dreams. She has been one of my greatest supporters in my marathon efforts, so I was actually kind of relieved that I would have a chance to help her out in this new endeavor.

Last night we drove down to American Fork to pick up her packet and check out the pool, transition areas, and drive the bike route. She spent the night at my house and it was fun watching her check over all her gear and going through that initial nervousness that so many athletes are familiar with. She mentioned how her one shoulder had started hurting that day and how tired she was and I told her about prerace hypochondria and phantom pains and she was able to relax a little more knowing it was normal.

This morning we loaded up her van and drove back to the race location. My main job was to be cheerleader and photographer and I did my best in both roles. She didn't get into the pool until almost 40 minutes after the actual start of the race and I missed her entire swim because I didn't notice her moving up in line. She did say that she had some panic moments in the pool, but found out later talking to other triathletes that this was perfectly normal for a first race.

I caught up with her as she came out of the pool and ran over to the first transition with her and then met her as she came out of the transition area to get on her bike. After she headed off on the first lap, I ran across the American Fork Cemetery to the Alpine Highway and cheered all the runners and cyclists as they came by, took more pictures of Marcia on her first loop and then swung down to cheer her on the start of the second loop. Wash, rinse, repeat – I went back to my cheering post and high fived all the runners I could and cheered everyone on. I know how much this means to me when I am in a race and it seemed to cheer a lot of the women on.

After Marcia finished her biking portion, I took some pictures of her in the transition area and then met her and walked with her on the 5K portion of the race. Her legs were tired, so she didn't run much, but she did awesome. I am so proud of her and was so thrilled to be able to cheer her on and watch her finish her first big race. There are big things in store for my sister – I wouldn't be surprised if she doesn't start outperforming me in a year or two.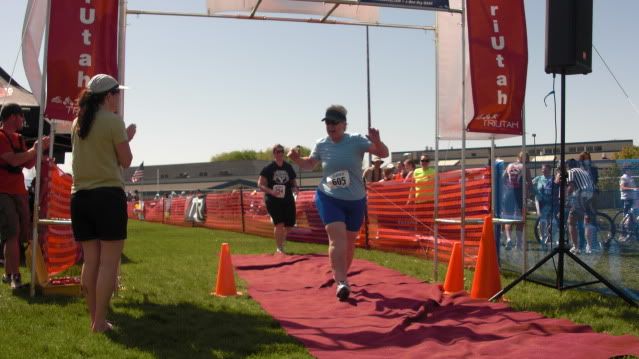 Way to go, Sis! I love you!