After Jeremy and Jennifer got custody of Elise and Brad, I decided to take my remaining vacation time to go to Georgia and visit with them. The trip had two primary purposes: 1) To be a support system to my daughter and 2) To get to know my grandchildren.
When Jenn and Jeremy got married in 2006, I got to meet Brad and Elise, but was worried that I would never get to know them and get them to feel I was their grandmother. This seemed like the perfect opportunity to make some changes with that.
The trip started off a little bit stressful as Savannah, Georgia received it's first snowfall in more than a decade. All the flights out of Atlanta were cancelled and all the hotels were full, so I rented a car and drove 6 white-knuckle hours across the state.
With the kids not yet enrolled in school, there was a lot of time to get to know them and to spoil them. I did my best to do many different things with them and had a great time with my family.
On Sunday, Jennifer, Elise and I drove into historical Savannah, Georgia. Elise admitted she loves taking pictures and seeing old buildings and Jenn was excited to have someone to take trips with in the future to do the tourist and photo bit.
We parked and walked on River Street. Lots of neat stores and we checked out a lot of them. There was a pirate ship parked on the docks and we took a tour of the ship and had some neat pictures taken there.
The best thing about River Street - candy stores! I think we all went crazy in the Savannah Candy Store. Yummy tastes and smells. I can still think and smell the scent of the pralines and pecans.
During the week we made bread, cooked together, blew bubbles, celebrated Valentine's Day, built model cars and rockets, and played video games.
On Friday afternoon, Jeremy came home early from work and Jennifer and I took off for a couple of hours alone together. We went back to River Street and also found some wonderful barbecue at Sticky Fingers restaurant. (It was divine! Finger licking good!).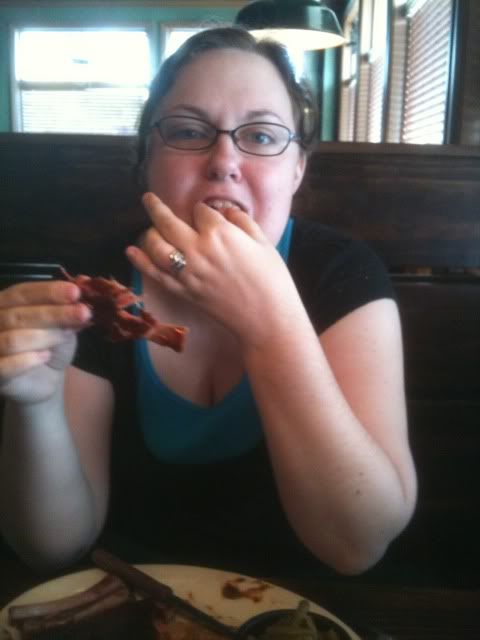 I had seen this stained glass window in the very first store we stopped at on Sunday. It never left my mind, so went back and bought it. I can't wait to have it delivered and hang it up on my landing over my desk.
Friday night we made homemade pizzas and had our own video games Olympics. Everyone had a blast together and all cooperated and won not only monetary rewards for medals but these delicious candied apples for being good sports.
Saturday night I took my grandkids out on a date to Golden Corral and Jennifer and Jeremy also went out on a date together.
My entire vacation was made when both kids came and hugged me goodnight when they went to bed on Saturday night. I sure grew to love these kids in a short period of time and am thrilled to have actively experienced being a grandma.