Saturday was the first ever Red Hot Pink Chicks Half Marathon (RHPC Half). This was organized as a combination fun run/race for several of us that have become running friends on FastRunningBlog.com. The evil genius behind the run was Marion McLellan - who I paced through her first marathon in June.
The rules for the run were that you had to wear red or pink (only one person failed to follow the rules), bring a treat to share, and bring a prize to swap (something on the red or hot or pink or chick theme).
We met at a park near the Riverwoods Shopping Center on Saturday morning at 6 a.m. Marion and Josse had set up the course and Michelle Lowry and her 9 year old son were acting as official timekeepers. After a quick overview from Josse, we shuttled over to the starting line in the mouth of Provo Canyon.
For the first 5.5 miles we ran up the canyon past Bridal Veil Falls and then turned around just short of Vivian Park. Lots of pink on the trails that day! Pinked two runners at mile 1 and another runner at mile 2 - and then did not pass anyone else in the group the rest of the race.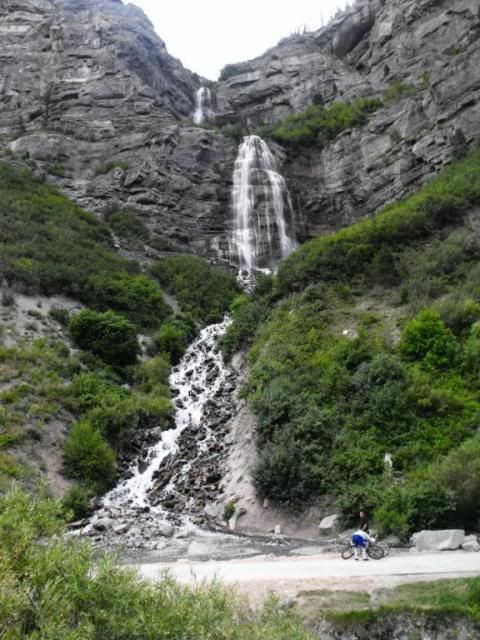 As I approached the turnaround, it was nice to see other runners heading back. I tried to high five everyone and encourage them on. Saw that Smooth/Suzanna was the next runner in front of me and knew I would not pass her since her slow pace is faster than my race pace.
After the turnaround I started to work on speed on the downhill portion. My speed was not where I wanted it to be - but considering I had been pretty sick for the past 6 days, I was just happy to be running and pushing myself. I never saw Marion or Leslie Peterson who were going to sweep the course, so figured they must have decided to not run the entire half marathon.
After coming out of the canyon, we followed the Provo River Trail over to Riverwoods Shopping Center and then swung over to run around the park and finish. As soon as each pink runner came in sight the other runners started cheering us in. I did not PR (I knew I would not in advance because of health issues and the course being uphill for a while) but was able to challenge myself and was pleased with my training results.
Once I finished we took a group picture with everyone except the 3 runners still out on the course. It was a great day and lots of fun. I can't wait until next year!